The other day my spouse took the day for hunting and fishing with his brothers. I opted to stay home and head out to get my hair done. Sitting in a chair in front of a mirror for 2 hours getting my highlights done always generates a little bit of insecurity for me. The lights are so much less forgiving but this time I went all out applying makeup before I sat in the chair. There have been so many times I have sat in the chair, and headed straight to the cosmetics counter after the appointment to buy any kind of miracle cosmetics that I can find but don't need. There is no miracle, but there are always newer versions of the things I always use – Mascara, Eyeliner, Foundation/BB, Brow Kits, Lipstick and any anti-aging products!
In the glaring lights all the young hairdressers wore black and sported mega false eyelashes and high heels. No matter how much cosmetic product I may apply, and no matter how wonderful my new hairdo may be, my 60ish pasty complexion would take that look to a whole new witch-y level just in time for Halloween. So trick or treating aside – I think we all need to be ourselves – our best selves that is.
So instead of false eyelashes, I went shopping for a few everyday tops. I am all about flattery. That is to say flattering my best features and accepting but avoiding the others. My 60ish self likes to wear flattering colours, or clothes that flatter my shape by appearing to be somewhat fitted, or having some sort of interesting detail.
Now I am easily distracted and a little impulsive. I stopped at the first store along my merry way and purchased 4 items, – but all on sale I might add. At The Hudson's Bay Company I came across a sale on the CHAPS brand. It's a Ralph Lauren brand. http://www.chaps.com/women.html
I bought the plaid shirt in a pink, white and blue shade. It's soft and comfortable, and the colour flatters my extremely pale complexion and newly blonde hair. I can wear it tucked or untucked.
Then I bought this Women's Chaps 3/4 Sleeve Black Lilac Blouse. It is nice and light, and floats over my mid-section. I love the detail of the double bell sleeves. It seems a little bit tent-like at first, but I don't feel like it added the appearance of weight in the middle.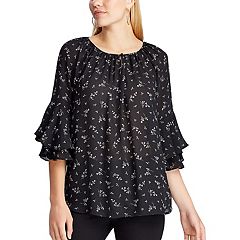 I also chose this no-iron fitted shirt. I love the fitting which defines my waist a tiny bit, and the detail of the contrasting fabric inside the cuffs is interesting. I bought mine in a black and white check fabric.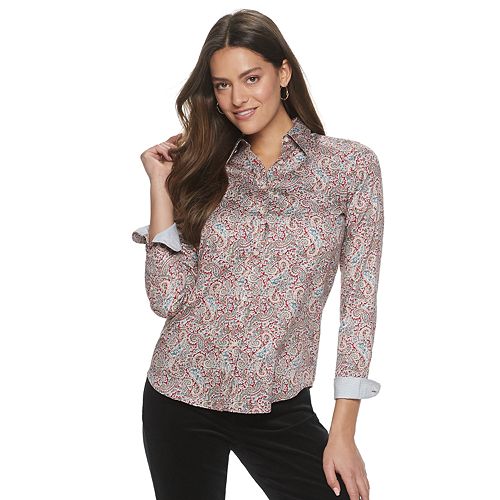 Finally, I bought this Ruffled Lace-Up Cotton Blend Top. I liked the collar and you can't beat the soft jersey fabric for comfort.
So I hope you don't mind that I shared my shopping finds. These are everyday clothes to spruce up my day to day wear – around the house and town stuff, but they can be spruced up a bit with a skirt or dress pants and heels. I am not currently involved in any online affiliate type links, I am just posting what I like. Chaps can be bought at KOHL's, The Hudsons Bay, Amazon, and other online and bricks and mortar stores. All of the items were on-sale in the $29-$39 price range. I went home feeling satisfied, like I had a win of some sort!
Now it's time to purge some more of my old non-flattering tired clothes!